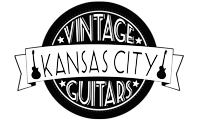 1936 Gibson Recording King M5 Archtop!
Here is an excellent guitar made in Kalamazoo by Gibson for Recording King. Here is one of the nicer examples you'll likely ever find. The top of the line M5 archtop is a great model. These take specs from some of Gibson's classic models of the era. These are excellent values especially considering the specs.
No cracks, no refins, no repairs, no sagging tops, the neck is dead straight, super low action, full sound, lightweight and a joy to play! All original including the original chipboard case. The plastic bottom strap button has disintegrated but otherwise it's about as nice as they come.
The M-5 model was Recording King's top of the line instrument, and was the department store answer to Gibson's flagship L-5 archtop. With a solid carved bookmatched spruce soundboard and highly figured maple body, the M-5 displays top-flight craftsmanship throughout, including unique ornate inlay in both peghead and fingerboard. Signature Gibson touches abound, from the classic Cremona sunburst finish, the tortoise bound pickguard, checkerboard binding, as seen on the 30's Gibson L-10. Finally, the generous 1 3/4" nut, now so popular among contemporary players, harkens back to the earliest Gibson archtops of the 20's.
The differences are equally intriguing. The body is a full 4" in depth, substantially deeper than any other Gibson archtop, helping to impart a warm resonance to the bass and lower mids. The soundholes are somewhat larger as well, and the curly maple sides are finished in a distinctive lateral sunburst, seen only rarely on a few obscure Gibson models like the prewar L-75. Bridge and tailpiece are like those found on various prewar Gibson archtops, but the Grover tuners are an extremely rare and attractive variant, sporting stylish art-deco baseplates. Credit: archtop.com 
Weight: 4.5 lbs.
Fast WORLDWIDE Shipping Available! Please contact us for more details.
For additional photos, please check out our website!
Thanks from KC Vintage Guitars!