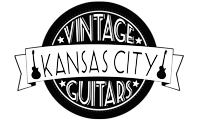 1965 Gibson SG Junior EMBER RED Wide Nut!
Here is a rare and desirable wide nut, chunky neck early 1965 SG Junior in custom color Ember Red! This one is a winner in so many ways. Rare color, lightweight, big neck and it sounds amazing. The guitar is all stock except possibly the bridge and a couple screws. Easily changed if you'd like with no mods. The guitar is in very good condition overall but there is checking, light dings, and scratches as shown. No breaks or refins! The guitar is a GREAT playing and sounding guitar. It has a very chunky neck and the full 1-11/16" nut width. All 1964 specs. Comes with newer hardshell case and the tremolo parts.
Weight: 5.8 lbs.
Fast WORLDWIDE Shipping Available! Please contact us for more details.
For additional photos, please check out our website!
Thanks from KC Vintage Guitars!