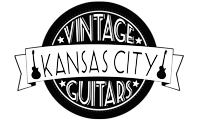 1966 Fender Mustang Bass Modified!
Here is a modified 1966 Fender Mustang Bass that is truly a GREAT player. This is your chance to get the Mustang Bass of your dreams. The comfortable shorter scale with the precision bass sound is a winner. The body has been stripped to natural and routed to fit the p-bass pickup. The knobs are also period but not original. There are a couple extra strap button holes on the back of the body. The bass has some wear/indentations from years of playing. It plays exceptionally well. The bass comes with the original hardshell case in rough condition. 
Weight: 7.4 lbs.
Fast WORLDWIDE Shipping Available! Please contact us for more details.
For additional photos, please check out our website!
Thanks from KC Vintage Guitars!