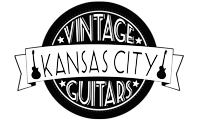 1980 G&L F-100 Series II Black!
Very cool player-grade G&L F100 Series II in black. This guitar has a wonderful-feeling neck and vibe. One of the better values in the old G&L line. This is one of the earlier models made by G&L. The company began one year earlier in 1979.
This one has had a few bridge mods in the past. There was likely a bigsby leaving 4 holes on top. The guitar likely had another bridge under the current G&L Tremolo as there is a plastic cover underneath. There are several touchups on the body. A pickguard was added.
The electronics appear to untouched and all original. The Schaller tuners are original. The neck has some very nice figuring. The guitar plays easy with low action and sounds great! Comes with the original hardshell case. If you are looking for a mint F-100, this one certainly isn't it, but it's a very cool guitar nevertheless.
Weight: 9.5 lbs.
Fast WORLDWIDE Shipping Available! Please contact us for more details.
For additional photos, please check out our website!
Thanks from KC Vintage Guitars!